The Recovery Team
From the moment you walk through our doors, or if we meet in your hospital room or home, we are here to listen, understand your situation, and fight to secure your future.
At our personal injury law firm, client satisfaction and the aggressive pursuit of a just recovery in your injury case are our top priorities. We also want you to feel respected and well-informed during the entire injury claims process. We are here for you, to be your voice and help reclaim what you lost. We take this responsibility seriously and want to ensure people are not rushed into inadequate settlements or dissuaded by unfair denials, during which they forfeit their rights and needlessly suffer because they did not receive what was due to them under the law.
To achieve your objectives, every client in our care is assigned one of our compassionate and highly trained case managers. This allows us to keep in constant contact with our clients from day one. This means we are kept abreast of your progress, and you remain up to date with ours. These dedicated individuals are instrumental to your case and strive to make every client feel as though they are our only one.
Additionally, our highly skilled injury attorneys combine extensive courtroom acumen with a keen insight into how large insurers respond to and address personal injury claims. This becomes important because these companies often use their virtually unlimited resources to devalue or dismiss the value of claims. You will want someone who understands their tactics when it comes time to securing compensation that is vital to your family's long-term financial stability and medical needs.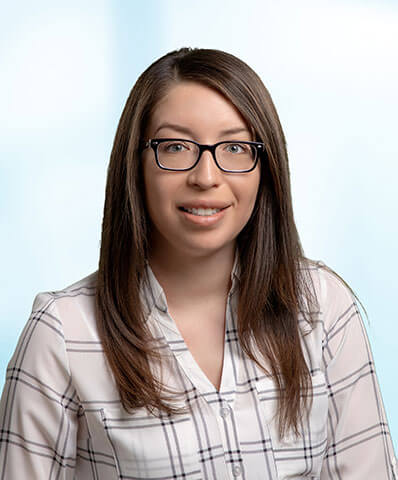 Arelice Parra
Arelice is a Paralegal in the Litigation Department at Paul Padda Law. A graduate of UNLV with a degree in finance, Arelice brings a winning attitude to work every day and puts her strong intellect to work on behalf of clients. She enjoys working in the legal field because it presents an opportunity to make a positive impact in another person's life. After all, people come to lawyers for help. As a Paralegal at Paul Padda Law, Arelice uses her skills and knowledge every day to make a real difference in clients' lives. In turn, clients appreciate Arelice for her professionalism and unwavering commitment to excellence.
Given the intensity and stress of the legal profession, Arelice enjoys relaxing during her downtime by watching shows such as "The Real Housewives of Hollywood" and "90-day Fiancé." When she's not watching television, Arelice enjoys spending time with friends, family, attending concerts and wine tastings.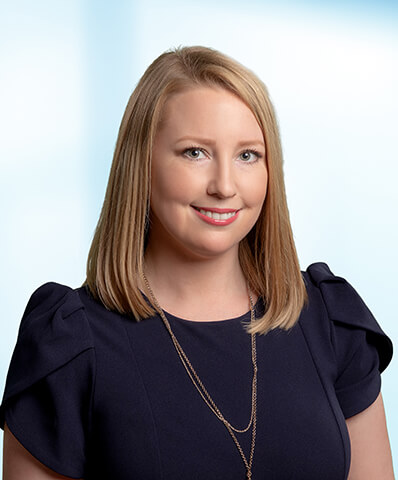 Ashley Pourghahreman
Ashley is a Paralegal and works in the Client Outreach & Marketing Department of Paul Padda Law. With a witty sense of humor and a sharp mind, Ashley is a true problem solver that ensures clients receive the best possible representation at the firm. She helps ensure the firm is always striving to put forward the best customer service and that clients receive the attention they deserve. A graduate of UNLV, Ashley uses her education by helping clients understand the personal injury process and the intricacies of the legal system. Additionally, Ashley is also responsible for ensuring the firm maintains the latest technology to better manage its cases and give clients the winning edge.
A native of Las Vegas, Ashley enjoys spending time with her husband and beautiful daughters traveling, boating at Lake Mead and, when time permits, hitting the beaches of Hawaii.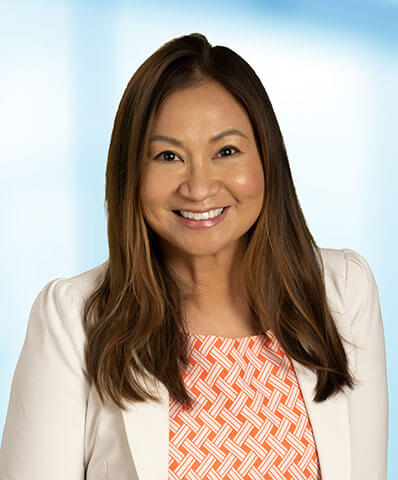 Lani Esteban-Trinidad
Lani is a Litigation Paralegal in the Litigation Department at Paul Padda Law. She provides valuable support and consultation on the many cases that are in litigation. A law school graduate with a distinguished work history, Lani is an outstanding researcher and writer that knows how to put together a case and make a powerful presentation. She assists the lawyers at Paul Padda Law by performing legal research and writing. She is dedicated to helping clients achieve maximum compensation under the law and is proud to help people facing difficult situations. A well-respected member of the Paul Padda Law team, Lani strives for the best and is guided by the firm's commitment to excellence.
Lani was born and raised in Hawaii. Although she returns to "Paradise" from time to time, she considers Las Vegas home and loves the diversity of the city. When she's not working, Lani enjoys spending time with her beautiful daughter, traveling, and reading.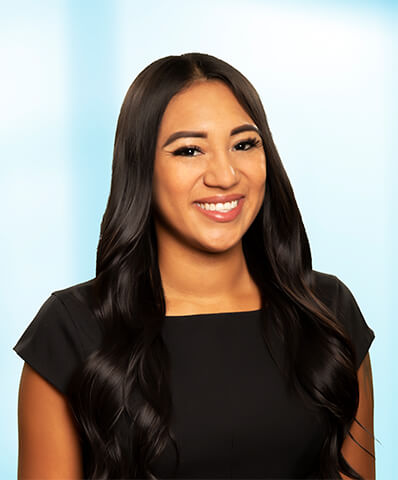 Jennifer Gomez
An engaging and friendly personality, Jennifer works in the firm's Intake & Reception Department. Jennifer greets clients over the telephone and when they arrive at the firm and brings a positive attitude to work every day. She understands and appreciates that clients come to the firm under difficult circumstances after being injured. For this reason, and because of her dedication to her work, she always tries to put clients at ease and makes sure they feel welcome. In addition to her many important duties handling client inquiries and working in the Intake & Reception Department, Jennifer also provides valuable support to the rest of the Paul Padda Law team through various legal tasks and functions.
A native of San Francisco, Jennifer has lived in Las Vegas for many years. She enjoys spending her free time with her family and friends and cheering on the 49ers.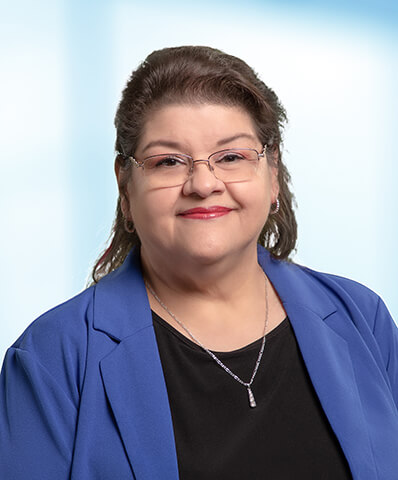 Mary Garcia
Mary is a Paralegal and Senior Intake Specialist in Paul Padda Law's Intake & Reception Department. She also serves as personal assistant to Paul Padda. Mary is a unique multi-tasker that brings a winning attitude and dedication to excellence to her unique role at the firm. Helping people achieve justice is Mary's favorite part of her job. When she's not on the phone getting information from potential clients, she helps handle various assignments all of which contribute towards the team effort of getting maximum justice for each and every client.
Mary is a native of Houston, Texas who has lived in Las Vegas for several years. While she misses the Tex-Mex cuisine of Houston, she doesn't miss the humidity. When Mary's not at the office working, she enjoys spending time with family and friends.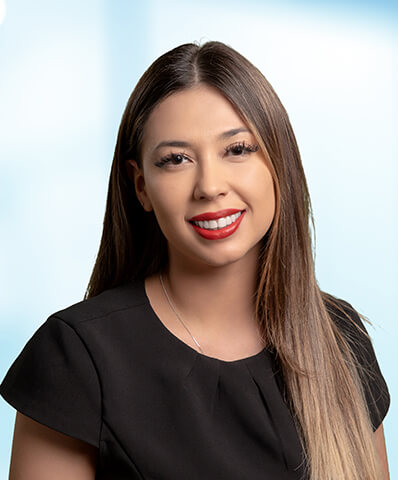 Nayely Delgado
Nayely is a Case Manager in the Pre-Litigation Department of Paul Padda Law. She is a consummate professional dedicated to helping clients get on the road to recovery. A very hard worker, she partners with an entire team of professionals at Paul Padda Law to ensure the best possible results for clients. In turn, clients love Nayely for her warm personality, her excellent work ethic, and her commitment to achieving justice on their behalf. Nayely loves her work because of the daily challenges involved with ensuring people that have suffered hardship and injury are properly compensated. Whether communicating with clients or medical offices, Nayely has a can-do attitude and is always committed to doing a great job for her clients.
Nayely was born and raised in Las Vegas. When she's not busy at work, she enjoys downtime by relaxing through hiking, hot yoga, and spending time at the pool with family as well as friends. She loves Las Vegas for its 24/7 atmosphere and its diversity of people.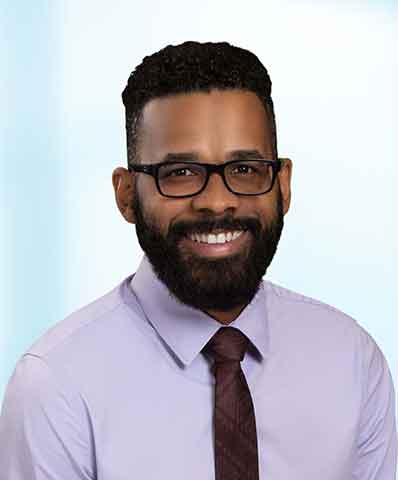 Paul Cruz
Paul works in the Intake & Reception Department of Paul Padda Law. An intellectual with a deep love for history and culture, Paul handles client inquiries and helps ensure clients experience a smooth transition when they become clients of the law firm. Gifted with a friendly personality and can-do attitude, Paul helps clients feel at ease from the moment they arrive at the firm. Although law is a stressful field, Paul maintains a peaceful and calm attitude which in turn gives clients a sense of confidence that they're with the right legal team.
A native of Puerto Rico, Paul moved to Las Vegas to enjoy life in the desert. He loves the natural beauty of southern Nevada and the diversity of its people. When he's not busy at work, Paul enjoys spending time reading, travelling, and exploring new cultures.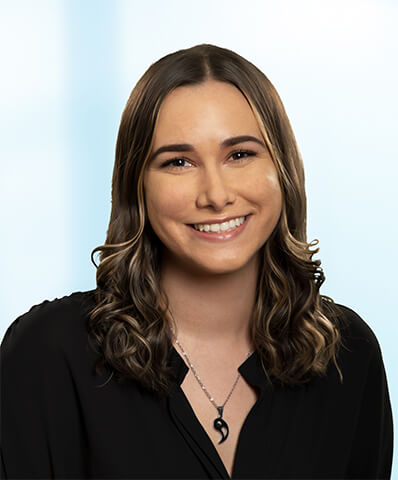 Shelbi Schram
Shelbi is a Litigation Assistant in the Litigation Department at Paul Padda Law. She works with paralegals and attorneys in the firm on many complex matters and understands the importance of ensuring that deadlines are always met and cases are handled efficiently. A detail-oriented person with a very friendly and engaging personality, Shelbi has a curious mind and loves learning something new from each matter she's assigned to work on. She understands that the stakes are high for each client of the firm and, for this reason, she strives to ensure each case is handled in the best possible manner. She accomplishes this through the use of the firm's technology and by working closely with the firm's paralegals and attorneys.
A native of Las Vegas, having been born and raised here, Shelbi is an avid reader and enjoys learning new things. When she's not busy taking care of her two cats, she also enjoys spending time with friends and family.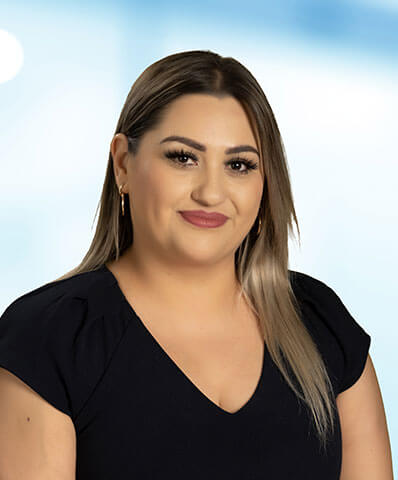 Yadira Nevarez
Yadira works in the Client Outreach & Marketing Department of Paul Padda Law and also serves as a Property Damage Specialist. When not busy handling client outreach matters, she also assists clients with their property damage claims; often a source of significant stress for most clients. Blessed with a winning smile, Yadira always comes to work with a positive attitude and dedication to justice. She understands that clients deserve the best possible customer service and she strives to ensure the firm provides it to each client. In practical terms, this means she listens to clients' concerns and anxieties and helps ensure the firm matches their expectations when it comes to providing first-class legal services.
When she's not busy working, Yadira enjoys spending time with her two beautiful children and family. A fan of CrossFit, Yadira loves working out and enjoying all that Las Vegas has to offer.